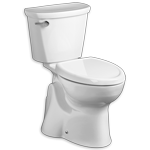 Toilets
Almost all toilets have a similar tank capacity. When choosing a tank, you'll have flush valve size and flush lever positioning to consider, as well as the flushing system.
The flush valve, which is located at the center of the tank, is activated by the flush lever and releases the water held in the tank. The larger the flush valve, the higher the rate of water flow. Flush levers are positioned either on the side, front or top of the tank.
The pressure-assisted and gravity-flush systems are the two standard flushing systems available:
Pressure-Assisted Flush System: Pressurized air forces water into the bowl when flushed, reducing the chance for clogs. This system is noisy, expensive and may require costly maintenance.
Gravity-Flush System: The most common and simplest system, it uses the water weight to generate flushing pressure. The pressure forces everything from the tank into the bowl and through the S-shaped trapway. A siphoning action completes the flush. This flushing system is quieter and requires less maintenance than a pressure-assisted flushing system.
Additional toilet technology includes:
Dual Flush: This is a relatively new system for saving water without sacrificing efficiency. There are two flushing options for a full or partial flush (ex. 1.6 gallon flush and 1.1 gallons per flush).
Waterless Toilets: Where water or plumbing is not available or when portability is required, a self-contained waterless unit is an option.
Kitchen & Bathroom Sinks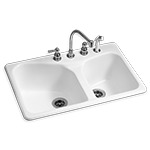 The kitchen may be the heart of the home, but the sink handles most of the daily chores. That's because it's the only working area used to both prepare meals and clean up after them. Although quality sinks can last 15 years or more, they do wear out. If you're planning a kitchen remodel, it makes sense to replace your sink and faucet.
Kitchen Sink Size vs. Kitchen Size
With so many options — single bowls to multiple bowls of different sizes, shapes and depths — you need to consider the size of the room and how you'll use the sink. Large multibasin models, which are popular right now, will overpower a small kitchen.
What material best suits your needs?
There are many kitchen sink materials to choose from, including stainless-steel, enameled cast iron, quartz silicate and solid surface:
A high-quality, 18-gauge stainless-steel sink will take a lot of abuse
Enameled cast iron has endless options for shiny colors
Solid surface or quartz silicate is better at resisting scratches
Here's what to consider when choosing a new bathroom sink style: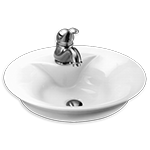 Pedestal
A good choice for powder rooms and guest baths where storage is less important and space is limited. Their sleek, sophisticated lines can visually enlarge a room, while also enhancing its appearance. Pedestal sinks come in a variety of styles and shapes.

Wall-Mount
Wall mount sinks feature a basin that it hung from the wall at a location and height that you choose. Lately, these sinks have seen a rapid gain in popularity. In part because there are so many attractive and innovative designs available, but also because they're ideal for universal access applications.

Undercounter
Clean, modern, distinctive. That's the beauty of undercounter sinks. They free up usable counter space, and since there is no rim to catch debris, they're also the easiest type of sink to keep clean.

Above Counter/Vessel
Versatile and stylish, above-counter sinks rise above the countertop, console or cabinet to create a dramatic focal point. They are best suited for master baths and powder rooms, especially in contemporary, cosmopolitan homes. Keep in mind that since these sinks sit above the countertop, the countertop should be lower than normal to allow easy access to the sink. Also consider what type of faucet to use with a vessel sink. Tall vessel faucets work well along with wall mounted faucets.

Countertop
These sinks, also called drop-ins and self-rimming, fit into a variety of countertops. And thanks to their self-rimming nature, they're the simplest type to install. Countertop sinks are the style most commonly found in high-traffic family bathrooms.

Integral Countertop
These sinks combine a countertop and sink together. Their one piece, seamless design allows for a clean, sleek look. Since there are no crevices they are also one of the easiest styles to keep clean.
Bathtubs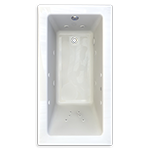 If you're remodeling and looking to add a new bathtub to your bathroom, find out what options are available for bathtub types, installation options, and materials to find the perfect tub for your bath and budget.
Find the Right Type of Tub for You
Some tubs are all function, while others focus on indulgence. Let the primary use dictate your selection as you determine what works best for your household.

Standard: This affordable, jack-of-all-trades built-in basic is often found in an alcove installation and doubles as a tub-shower combo; it can be purchased at your local home improvement center.

Whirlpool & Air Tubs: Think of it as an on-demand therapeutic massage in your home. A whirlpool forces water through strategically placed jets, and an air tub pushes a soothing, steady stream of air into the water. With the extra plumbing required, whirlpools tend to be more expensive than air tubs. Visit a showroom or chat with your designer to determine which option best fits your preference and space.

Soaking: Extra-deep dimensions allow the bather's body to be completely submerged. It can be either built-in or freestanding. Walk In: Climbing in and out of a slippery tub can be dangerous, but a walk-in tub is great for those with mobility concerns.
Showers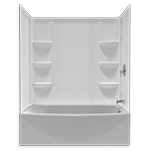 Need a bathtub and a shower but don't have the room for separate pieces in your bathroom? A space-saving combination tub-shower is a smart choice. These two-in-one units make the most of limited space by providing all the benefits of both a shower and a bathtub in a compact footprint, which can be particularly useful in a child's or guest bathroom. When you don't have room or funds for a separate tub and shower, a combo model is also a wise choice for boosting your home's resale value because it serves homeowners who prefer either option.
Tub and shower combos are available as prefabricated kits or can be installed as a custom design. Typically made from fiberglass or acrylic, prefab units are available from very basic and affordable models to pricey versions that include tile-look walls, modern colors, and shelves. Although the design options are limited with prefab units, you can personalize the unit with the fixtures you choose. A glass shower door can also give the illusion of more space than a curtain. A sliding door is installed on a track along the edge of the bathtub.
Let the experts at U-1st Services, LLC help explain all the details and customize a solution that's right for you.